Product Features of Grooved Wood Acoustic Board in Basketball Hall
1. Sound absorption, according to the acoustic principle, with reasonable cooperation, has excellent noise reduction and sound absorption performance, especially for low and medium frequency sound absorption.
2. Environmental protection, all materials meet the national environmental protection standards, and the formaldehyde content is low.
3. Flame retardant, with flame retardant grade B, which has passed the inspection of the national authoritative department. Flame retardant and fireproof, high safety performance, meeting the high fire protection requirements of the project.
4. Waterproof, the new products developed by the company have the characteristics of waterproof and moisture-proof.
5. It is safe, environment-friendly, odorless, beautiful, exquisite, and high-quality, and the high-quality environment-friendly substrate can also be touched by babies at will.
6. Crevice resonance, multi frequency sound absorption, plate back perforation, front slotting, sound waves reflected back and forth inside the slot and round hole, to achieve better sound absorption and noise reduction effect.
Product Details of Grooved Wood Acoustic Board in Basketball Hall
1. The installation is convenient, and the plug installation of the mother and child slots is more convenient and fast, and the connection is tight.
2. High density board, multi material high density board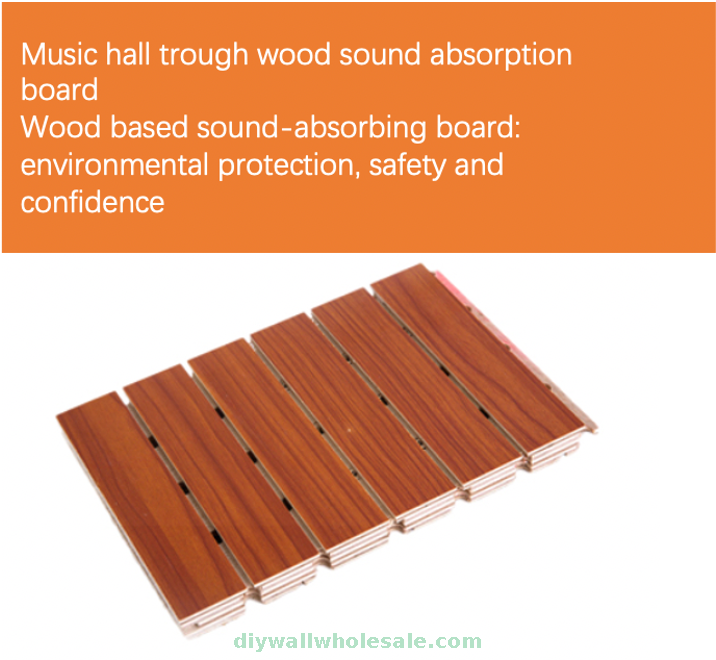 has good stability and can prolong the service life.
Scope of application of grooved wood acoustic board
Grooved wood acoustic panels can be used in rehearsal rooms, conference rooms, basketball halls, lecture halls, conference halls, gymnasiums, multi-function halls, drum rooms, theaters, classrooms, auditoriums, conference halls and other places with high acoustic requirements.
At present, the factory produces and sells special sound absorbing materials, including aluminum sound absorbing board, soft package sound absorbing board, grooved wood sound absorbing board, perforated sound absorbing board, glass magnesium sound absorbing board, polyester fiber sound absorbing board, space sound absorbing body, glass fiber ceiling sound absorbing board, art sound absorbing board, sandstone sound absorbing board, etc., which are suitable for places with high requirements on safety, fire prevention and environmental protection.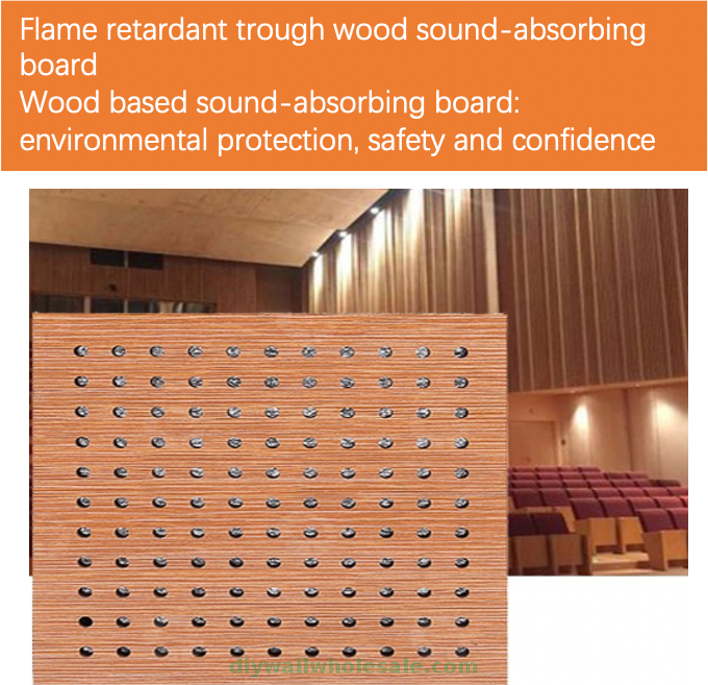 :Xinda wall decoration material
----------------------------
Xinda belongs to the direct supplier of decorative wall materials factory Specializing in 16 years of fashionable and environment-friendly wallpaper decoration materials, DIY fashionable waterproof and moisture-proof wall cloth decoration materials, and new process processing and supply factory of sound insulation and heat dissipation decorative wallboard. With 9 production lines, the daily output can reach 20000 rolls, and there are 30000 varieties for you to choose from Delivery can be guaranteed even in the busiest season. We are mainly looking for dealers and distributors in 230 countries, purchasers who need to wholesale and customize sound insulation panels, and provide sound insulation panels, sound absorption panels, decorative wall materials, and self-adhesive wall stickers for hospitals, nursing homes, childcare centers, rehabilitation centers, gyms, ktv, courts, interrogation rooms, psychotherapy rooms, schools, conference rooms, office buildings, commercial buildings, shopping malls, villas, apartments, old house reconstruction, cinemas, scenic spots, holiday hotels and other places, Consumables such as wallpaper Today, Xinda's employees will be very proud. Our products have spread rapidly to 230 countries around the world. Now we are looking for cooperation in the non-stop global decoration and design companies, and we have also made good comments on our products and services. Xinda people are still working hard to develop new products, constantly providing high-quality products for designers to choose from, and adhere to our core values - to be the best supplier, which is also your trustworthy wall decoration material supplier
-----------------------
Consult the lowest wholesale price of franchised investment dealers
官网链接:www.diywallwholesale.com
address:Floor 2, No. 4, Village Group Lane 1, Shencun Village, Shiwan Town, Chancheng District, Foshan City
Telephone +8613827722872